A Letter to Brittany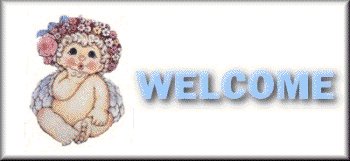 Brittany Nichole Brown
June 28th, 1993 - July 7th 1997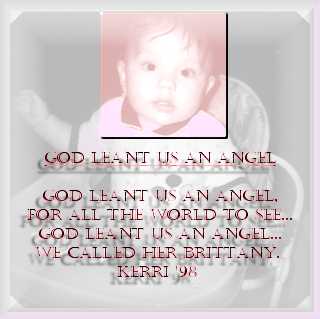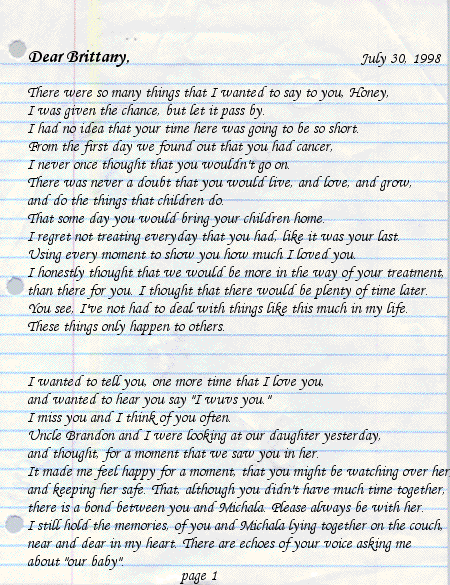 Not even death can separate,
Hearts that really care,
For memory spans all time,
And in a second you are there.
We here the voice, we see the smile,
And deep inside we know,
That loved ones are a part of us,
Wherever we may go .
They're in our hearts forever
No matter when or where --
Not even death can separate,
Hearts that really care.

Unknown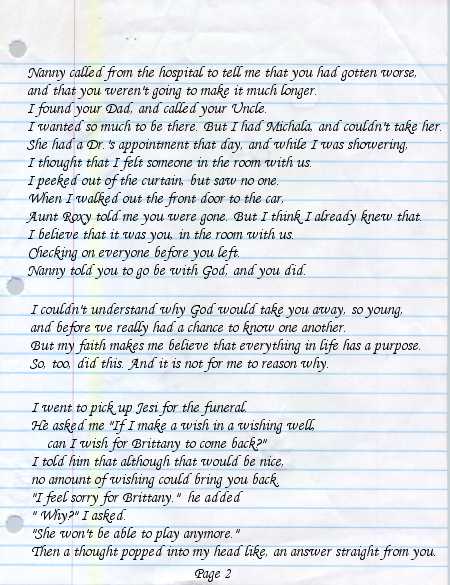 One More...
I wish for one more kiss...
a gentle hug.
One more memory...
Placed in my mind safe and snug.
One more day to say...
All the things I need to tell you.
All the love, left yet to give...
But alas, one more day is through.

kerri '98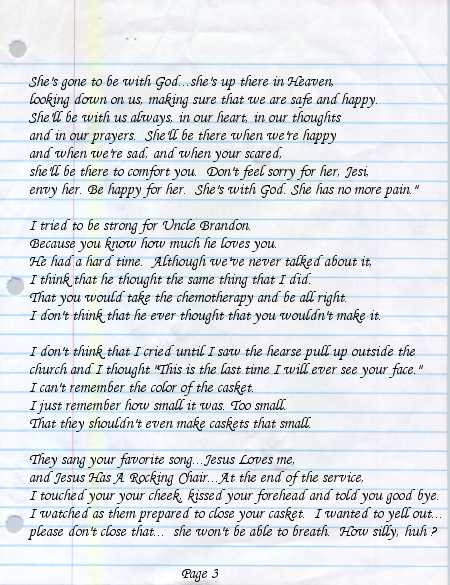 Guardian Angels
When Angels sense you need them, And Angels always do,
They come, unseen, from everywhere, To help and comfort you.
They hover close beside you, Till all your cares are all gone
Till they can see your ready, Once again to carry on.
Then some of them may fly away, And take their gentle touch
To other hearts that need the love of Angels very much
But one, at least, stays with you As your constant friend and guide,
For Guardian Angels never leave They are always at your side.
Author Unknown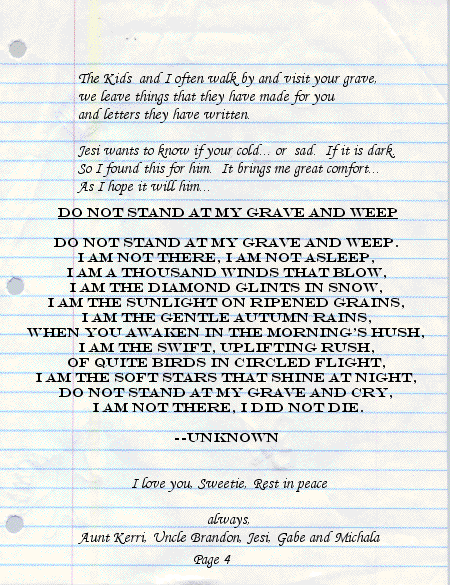 God's Loan
"I'll lend you for a little time...
A child of mine," He said
"For you to love, while she's here
And mourn for, when she's dead.
It may be six or seven years....
Or twenty-two or three,
But will you, 'til I call her back...
Take care of her for Me?
She'll bring her charms to gladden you,
And should her stay be brief,
You'll have her lovely memories......
as solace for your grief.
I cannot promise she will stay...
Since all from earth return,
But, there are lessons taught down there
I want this child to learn.
I've looked this wide world over...
In my search for teachers true;
And from the throngs that crowds life's lanes...
I have selected you.
Now will you give her all your love...
Not think the labor vain?
Nor hate Me when I come to call...
To take her back again?"
I fancied when I heard them say...
"Dear Lord Thy Will Be Done",
For all this joy Thy child shall bring...
The risk of grief we'll run.
We'll shelter her with tenderness...
We'll love her while we may,
But should the angels call for her...
much sooner than we'd planned,
We'll brave the bitter grief that comes....
And Try To Understand !
~Edgar A Guest~
There are lots of regrets that are in my life, among them, I wish that I had been there more for you. That I had been able to be with you more before you grew ill. That I was able to tell you, one more time that I loved you so...
All our love, forever and ever,
Aunt Kerri, Uncle Brandon, Jesi, Gabe and Michala
I included this because, it says it all...
I HAVE LEARNED
"Through experience and listening"
I've learned that you can get by on charm for about 15 minutes.
After that, you better know something.
I've learned that you shouldn't compare yourself to the best others can do,
but the best you can do.
I've learned that it's not what happens to people that's important.
It's what they do about it.
I've learned that you can do something in an instant
that will give you a headache for life.
I've learned that no matter how thin you slice it,
there are always two sides.
I've learned that regardless of your relationship with your parents,
you miss them terribly after they die.
I've learned that it takes me a long time to become the person I want to be.
I've learned that it's a lot easier to react than it is to think.
I've learned that you should always leave loved ones with loving words.
It may be the last time you see them.
I've learned that you can keep going long after you think you can't.
I've learned that we are responsible for what we do.
No matter how we feel.
I've learned that either you control your attitude or it controls you.
I've learned that heroes are the people who do what has to be done
when it needs to be done, regardless of the consequences.
I've learned that when the light turns green,
you had better look both ways before proceeding.
I have learned that there are people who love you dearly,
but just don't know how to show it.
I've learned that my best friend and I can do anything or nothing
and have the best time.
I 've learned that sometimes the people you expect to kick you when you're down
will be the ones to help you get back up.
I've learned that I'm getting more and more like my mom,
and I'm kinda' happy about it.
I've learned that sometimes when I'm angry I have the right to be angry,
but that doesn't give me the right to be cruel.
I've learned that true friendship continues to grow,
even over the longest distance.
I've learned that just because someone doesn't love you the way you want them to
doesn't mean they don't love you with all they have.
I've learned that I wish I could have told my parents that I love them
one more time before they died.
I've learned that it isn't always enough to be forgiven by others.
Sometimes you have to learn to forgive yourself.
I've learned that we don't have to change friends
if we understand that friends change.
I've learned that it's not what you have in your life
but whom you have in your life that counts.
I've learned that you cannot make someone love you.
All you can do is be someone who can be loved. The rest is up to them.
I've learned that it's hard to determine where to draw the line
between being nice and not hurting people's feelings
and standing up for what you believe
Author:

H. Jackson Brown, Jr.

Neuroblastoma is the third most common childhood cancer. It affects nearly 1 in 80,000 children in the United States. Neuroblastoma is a fast-growing cancer that mostly affects infants and children. The disease rarely appears in adults. Generally, neuroblastoma begins in the body's nerve tissue but it can rapidly spread to lymph nodes, bone tissue, the lungs and liver. Cancer in children and adolescents is rare. In the year 2000, close to 12,500 children will be diagnosed and approximately 2300 will die of cancer. Cancer is the leading cause of death from disease in children between the ages of 1 and 19. Neuroblastoma accounts for 97% of the cancers of the Sympathetic Nervous System, which comprises one of the twelve major categories of the International Classification of Childhood Cancers (ICCC). The incidence rate for all sympathetic nervous system cancers was 9.5 per million children. Neuroblastoma accounts for 14% of all cancers in children younger than five years of age.
Neuroblastoma is a solid tumor cancer that begins in the nerve tissue in the neck, chest, abdomen, or pelvis but usually originates in the abdomen in the tissue of the adrenal gland. Nearly 70% of those children first diagnosed, have disease that has already metastasized or spread to other parts of the body. The average age at diagnosis is two years old. Prognosis for neuroblastoma is dependent on age, stage of disease, and the molecular biologic and cytogenetic characteristics of the tumor. There is very little known about why neuroblastoma occurs, or about what factors increase the risk for occurrence.
Sources:
My niece was one of it's casualties. So for her and the 12,000 other children and families whom are suffering with this...I dedicate this page to you...with hope and love.
Please Join me, along with others for the Annual Worldwide Candle Lighting on December 9, 2001 for "National Children's Memorial Day." To celebrate the life and death of the approximately 79,000 infants, children, teenagers and young adults that die each year in the US.
"Whereas the death of a child is one of the greatest tragedies suffered by a family; and Whereas support and understanding are critical to the healing process of a bereaved family: Now, therefore, be it Resolved, That the Senate designates the second Sunday in December, as "National Children's Memorial Day"; and requests that the President issue a proclamation designating it as "National Children's Memorial Day" and calls on the people of the United States to observe the day with appropriate ceremonies and activities in remembrance of infants, children, teenagers, and young adults who have died."
Please join me along with others
For the Annual
Worldwide Candle Lighting
On December 9, 2001



Please light a candle in memory of Brittany and all of Heavens Littlest Angels

Please Take this candle for your Home Page or pass it on to others for theirs to help us honor and remember Our Little Angels. Please visit

Our Virtual Candle Light Vigil.

The Candles are to be lit at 7 PM in every time zone in memory of all children who have died, 'producing a wave of light that will encircle the earth, as candles burn down in one time zone, it becomes 7 PM in another, creating a virtual 24-hour memorial.

You can visit

Compassionate Friends

to find out more about the Virtual Candle Light Vidual and other worthy topics for bereaved parents and their families.

Music Playing
Fly
Celine Dion
Fly, fly little wing
Fly beyond imagining
The softest cloud, the whitest dove
Upon the wind of heaven's love
Past the planets and the stars
Leave this lonely world of ours
Escape the sorrow and the pain
And fly again
Fly, fly precious one
Your endless journey has begun
Take your gentle happiness
Far too beautiful for this
Cross over to the other shore
There is peace forever more
But hold this memory bittersweet
Until we meet
Fly, fly do not fear
Don't waste a breath, don't shed a tear
Your heart is pure, your soul is free
Be on your way, don't wait for me
Above the universe you'll climb
On beyond the hands of time
The moon will rise, the sun will set
But I won't forget
Fly, fly little wing
Fly where only angels sing
Fly away, the time is right
Do now, find the light
Copyright: kerbran. All graphics, except otherwise noted, are the sole property of kerbran, or KeKe & KC and should not be used with out their expressed, written consent.
Tuesday, September 19, 2000 10:10:35 AM